My eyes are drawn to the dawning of a new era.
---
Some of Hawaii's top entertainers will be contributing their talents to Ho'omau 2000, a benefit concert for the Punana Leo O Maui Hawaiian language preschool. This annual event will be held from 9 a.m. to sunset. The best island music, delicious local food, Hawaiian crafts, live and silent auctions, and a children's fun zone make this a "must see" event.
When: Saturday, March 25, 2000
Where: Maui Botanical Garden Amphitheater(Keopuolani Park) - across of the War Memorial Stadium
Tickets: $10 per adult in advance, $12 at the gate. Children 10 and under are free.
No coolers or alcohol, please.
Plenty of free parking
Handi-cap access and assistance
Ticket outlets:
Borders Bookstore - Kahului
Sig Zane - Wailuku
Bailey House Museum - Wailuku
Big Bugga Sportswear - Pa'ia - Closed Sunday
Groove 2 Music - Lahaina Cannery Mall
Suda Store - Kihei
Or call (808) 244-5676
ENTERTAINMENT

hosted by the DJ's of KNUI and KPOA
8:45a.m.
Pule Wehe - Hope Kahu Elizabeth Kepani
9:00a.m.
Kalani Smythe - Practitioner of the art of Kiho'alu or Slack-key guitar. A perfect way to begin a beautiful Maui day.
9:35a.m.

Uluwehi Guerrero - Kumu Hula and musician, Maui's golden falsetto voice. Reminiscent of the great trios of old.
10:10a.m.
Na Keiki O Punana Leo O Maui
Na Keiki O Kula Kaiapuni O Maui
10:45a.m.

Hulu Lindsey - and Halau Hula Na Lei Kaumaka O Uka. Maui's First-lady of traditional Hawaiian music. Graced by the lovely dancers of Halau Na Lei Kau Maka O Uka.
11:35a.m.
Kohomua - a blend of talented young entertainers featuring the voice of Ikaika Brown.
12:25p.m. LIVE AUCTION
1:15p.m.

Keali'i Reichel - with Halau Hula Ka Makani Wili Makaha O Kaua'ula. Award winning kumu hula, master chanter and Hawaiian cultural expert. Hawai'i's musical ambassador to the world.
2:25p.m.

- A refreshing local sound from the island of O'ahu that fills the void of new young talent.
2:30p.m. Silent Auction Closed
3:15p.m.

Ho'omau - Topping the record charts with their first CD Daydream. A unique blend of harmonies, delivering smooth contemporary sounds.
4:05p.m.

'Ehukai - They're back....! with a bigger, brighter sound that shows no sign of slowing down.
4:45p.m.

Sly Dog - Rocks Maui with Reggae rhythms and a full horn section guaranteed to put a skank in your step.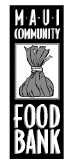 Maui Food Bank 2000 Food Drive
Na Leo Pulama O Maui's needs are great this year. We will lose our lease at our High Street location at the end of September, 2000. But there is an immediate need for many families in our community. We humbly ask that you join us in our efforts to help the Maui Food Bank with their food drive. Representatives will be at Ho'omau 2000 to collect your donated food item. Mahalo.
Want an advanced peek at our auction items? Click here.
* Everything subject to change without notice